End yo-yo dieting once and for all with our simple, effective, family friendly fat loss programme.
Join Sustain Coaching today, redefine your relationship with food and discover how to sustainably lose weight, look great and feel even better.
From £47 per month.
Get started
Fed up with diets that don't deliver lifelong results?
When you join Sustain Coaching, you will work one-on-one with your very own fat loss coach. They will give you the accountability, education and support you need to get the body you've always wanted, and sustain it.
Get started
Sustain Coaching is a totally personalised fat loss plan, that fits around you and your lifestyle.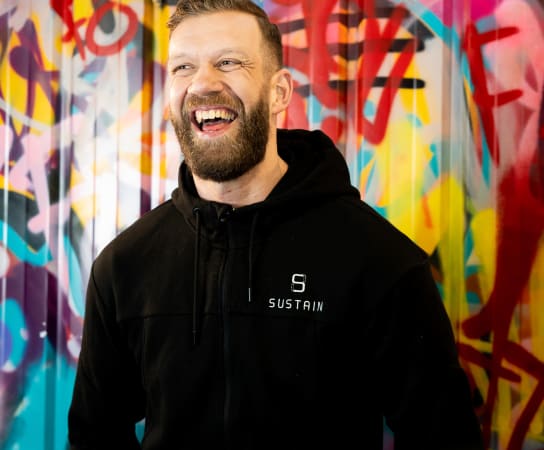 Unlike other off-the-shelf weight loss plans, our 100% personalised programme means you can achieve your fat loss goal without sacrificing the food you actually like eating.
Get started
What do you get with Sustain Coaching?
What's included
FOOD
No weighing with our easy portion sizing system

Family friendly plan

Choose the foods you enjoy and work for you

Gain control and learn how to balance treats
What's included
TRAINING
Wide range of plans suitable for all levels

Personalised advice and education

Both home and Gym options available

New plans each month
What's included
MINDSET
Learn how to change YOUR bad habits

Goal setting exercises to remain focused

How to stay motivated

Willpower training
How Sustain Coaching works
Month #1
You will be assigned your very own fat loss coach who will learn all about you and your abilities with our comprehensive discovery questionnaire. They will help you set your goal and check in daily to monitor your progress and give you guidance and support.
One
Month #2
You will already see great results from your plan. By working with your coach, you have a better understanding of your pitfalls and have started to develop tactics for handling food and alcohol at special occasions like parties, weddings and weekends.
Two
Month #3
Your body has undergone huge changes and your dream weight has become a reality. You've redefined your relationship with food. You're in control of your eating habits again. You feel happy and confident in the fact that your new mindset means 'dieting' is now a thing of the past.
Three
Sustain Coaching has already changed the lives of 1000s of people with our easy to follow, family friendly system. Ready to join them?
View Transformations
The best sort of fat loss
Question:
Ready to end yo-yo dieting and get the long term results you know you deserve?

Yes? We thought so!
Get ready to transform.
Join Sustain Coaching today!
Join Sustain Coaching