"I am now at my goal weight - 8 months earlier than I had planned!''"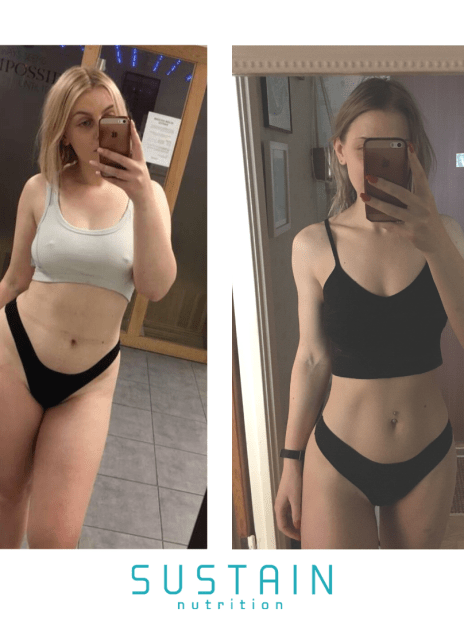 ''I am now at my goal weight – 8 months earlier than I had planned!''
Not bad for 3 months of coaching!
Lisa joined us like many after a few different restrictive, failed diet attempts
-
'' During the past 3 months, Joe has supported me and helped me understand my relationship to food and eating through daily accountability. The personalised advice and support has been invaluable. The best thing about Sustain is this personalised approach. By exploring the reasons behind my food choices and habits, Joe has helped me to truly change my ways – for the long-term. He has continuously encouraged me to challenge myself, but also to be realistic about my progress and to be kind to myself. It's been a joy getting his feedback and help every day. The daily encouragement and advice from a professional has really helped stay on track and kept me motivated. Logging my food every day has also been a great tool for understanding my habits.''
-
We are so glad that Lisa joined our coaching plan as she had been struggling for so long it had actually started to directly affect her mental health, thankfully we are able to offer the support, feedback and personal touch that she needed to get out of this horrible cycle
-
''I had been unhappy with my body for years before I started Sustain Nutrition. At the time I was completing The Body Coach. I was extremely unhappy with my body after putting on almost 30 kg during the last 2 years due to anti-depressive medication and bad food habits such as comfort eating.
I found The Body Coach didn't work for me, I wasn't enjoying the exercise and I had to force myself to eat meals I didn't like, which only led me to feel worse mentally and resorting to binging unhealthy meals instead.
By 2019 I had undone the little results I got from attempting The Body Coach, and I was just as unhappy with the way I looked. I had no confidence and felt isolated as I didn't want to go out looking like that. Then I got an email from James announcing a free challenge. It was perfect for me, I wanted to lose weight for my upcoming wedding. But I was scared of committing to a paid plan again, since last time I did so it ended up being a waste of money. I was also scared of failing again. The free challenge didn't feel like as much of a commitment, and it pushed me to actually finally give Sustain a try.''
-
At Sustain we don't just give people a 'meal plan' or some calories to hit, we work with our clients one to one, to find out what makes them tick, to build a plan around them and to help them level up their skill set and relationship with food
-
''During my coaching plan I learned about the issues that prevent me from losing weight. I learned about motivation, emotional eating, planning, and moderation – all the things that I struggled with. And I immediately got results.
The second best thing about Sustain Nutrition is that I have thoroughly enjoyed it. I have eaten meals that I enjoy and I have done exercise that I enjoy.
I truly does not feel like a 'diet' because it doesn't feel restrictive. This has been key for my progress. I have learned how to plan in treats, social gatherings, and alcohol – while still making progress (and without feeling guilty!). I have learned how to moderate high calorie foods so that I can still enjoy them. I maintained my weight through Christmas and Easter, while also enjoying the holidays. I don't feel like I have to restrict my social life in order to make progress.
Since I started Sustain over 6 months ago, I have lost almost 15kg. I am now at my goal weight – 8 months earlier than I had planned!''
The best sort of fat loss
Question:
Ready to end yo-yo dieting and get the long term results you know you deserve?

Yes? We thought so!
Get ready to transform.
Join Sustain Coaching today!
Join Sustain Coaching